Sherraine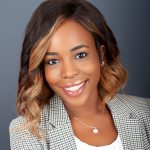 Sherraine Felder
REALTOR®
(407) 845-0333
(321) 2104141
Fax : 4073860330
Whether you're renting, a first-time homebuyer, relocating, downsizing to fit a new lifestyle or in need of more space for expanding family; the answer to your real estate needs begins with a call to Sherraine. With years of thorough business experience, Sherraine understands the importance of building relationships, providing high quality service, and being an advocate on behalf of her clients.
Sherraine has lived throughout the Central Florida area for the past 17 years. Alumni to the Florida State University and University of Central Florida. She has a Master's Degree in Business Administration and has prior experience as a senior specialist in the global financial industry for the past 6 years. She has thrived within the ranks of the business community due to her use of strong communication, and ability to negotiate. Now she has taken all of her past work experiences and education and applied them to her real estate career, which has given her the ability to far exceed most agents in the industry – especially when it comes to negotiations, communication, work ethic, tenacity, etc.
Don't allow buying and selling to be a pain; pick up the phone and call Sherraine!